Montpelier Beyond the Guidebooks
There's a lot of see and do in Montpelier beyond the State House. We asked local residents to share some of their favorites. Hopefully you'll discover some new treasures beyond what you read about in a guide book.
Our Cemeteries
Montpelier's historic cemeteries are beautiful spots for quiet contemplation and a walk back in time. Peruse the grave markers and you might find some of Vermont's legendary figures. Locals particularly recommend Green Mount Cemetery, the historic cemetery on Elm Street, and the views from from the higher level of the St. Augustine Cemetery at the end of Lincoln Ave off Upper Main Street.
Statue of Dick Hathaway
"I'd rather risk high indiscretion than boredom." -Dick Hathaway
Dick Hathaway, professor at Vermont College and Goddard, "was described in obituaries as... a social activist, a champion of the underdog, a mentor, a gifted lecturer, noted historian and 'public intellectual' and an ardent collector of books, printed materials and artifacts." (Vermont Historical Society)
His statue on the College Green of Vermont College of Fine Arts, part of the T.W. Wood Gallery Collection, is a local treasure.
Photo by George Anderson
Sabin's Pasture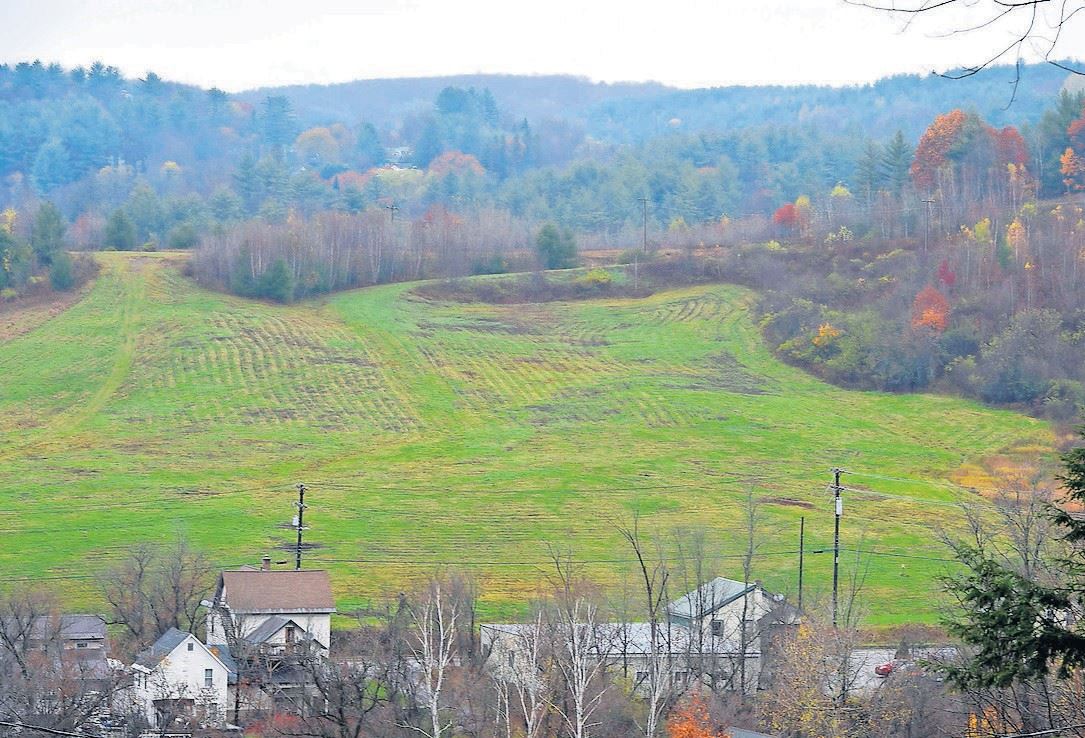 While officially private land, locals have used its woods and fields for hiking, cross-country skiing, birding and sledding. The abandoned slate quarry is particularly beautiful.
Peace Park on the Bike Path
"Located at a spot on the bike path to the west of the High School where there is some extra room between the path in a beautiful spot right along the Winooski river, the Peace Park offers a quiet and wonderful spot to enjoy the river, the beautiful flowers that volunteers maintain, as well as a nice place to picnic." -Montpelier Parks
The Jungle on Langdon Street
Part of the Langdon Street Alive public art project, you'll find this primate hanging around waiting for you to discover him.
Photo by Yvonne Baab
Pedestrian Bridge at The Lane Shops
Grab an espresso and a pastry from nearby Birchgrove Baking and take a brief stroll around the corner to this pedestrian bridge, where you can look out on the North Branch of the Winooski River and beautiful waterfall.
Maple Creemees
You might ask, "what's a creemee?" It's the Vermont word for soft-serve ice cream, and what better way to enjoy a summer day than with a delicious maple variety?! Check them out at Morse Farm, Bragg Farm, or Dairy Creme.
Catch a Ball Game
The Vermont Mountaineers are Montpelier's own collegiate summer baseball team. Enjoy a fun and affordable night at historic Montpelier Recreation Field, with all your favorite ballpark foods and a beer tent! Fun for all ages!
Kellogg-Hubbard Library
Our beautiful local library, built in classical revival style, opened more than 100 years ago! In addition to housing tons of books (duh!), it's a community gathering spot, with tons of great free events. Plus, there is great art to explore within.
Photo by John Snell
Get into Nature
While you may have heard about Montpelier's crown jewel, Hubbard Park (be sure to take the trail behind the State House up to the historic tower for spectacular views), you may not know about the North Branch Nature Center. The Center offers miles of walking trails and great educational programming, just a short distance from downtown.
Art is All Around You
The Governor's Gallery (in his office on the top floor of the Pavilion) and the Vermont Supreme Court Gallery are two State-sponsored art galleries that regularly showcase Vermont's finest artists! The T.W. Wood Gallery: A Museum of American Art aims to bring the best of today's art to central Vermont. And there are several downtown galleries to explore, including The Front, The Cheshire Cat, and Artisan's Hand Craft Gallery. As the home of Vermont College of Fine Arts, there's an unmistakable creative buzz in town!
Photo by George Anderson
Catch a Concert in the State House!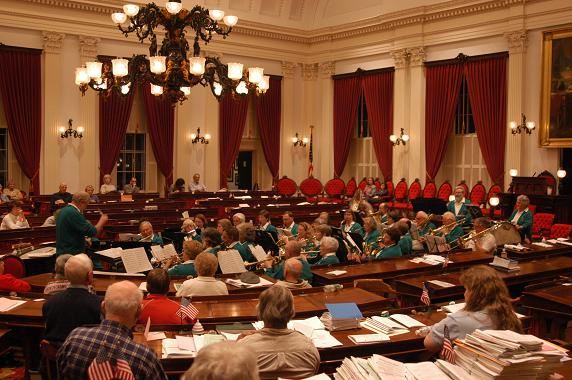 The Farmers Night Concert Series is a longstanding State House tradition. Artists from around the state, in genres ranging from classical music to bluegrass to barbershop, perform in the well of the House Chamber each Wednesday night during the legislative session. That's right - a concert smack dab in the middle of the State House, open to the public!