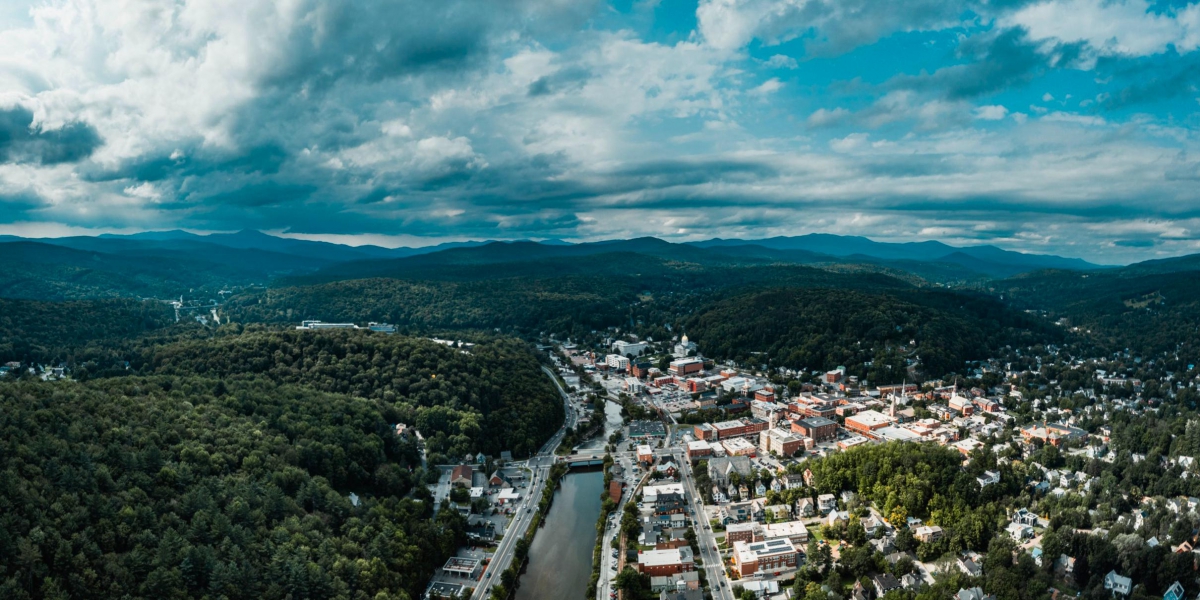 ...The residents of this New England town in the foothills of the Green Mountains include students (at the Vermont College of Fine Arts), movie buffs (each March it hosts the Green Mountain Film Festival), foodies, artists and outdoors enthusiasts. Whether you're in search of a meal at one of the many new farm-to-table restaurants, an art house movie or live music, you'll find it all in this little capital city...
- New York Times
#1 Best Small Town for Shopping in America
- USA Today 10 Best
Thank you to Montpelier Alive for all they do for our little town of Montpelier. It's people like you that make a difference.
- Debra Martin
"Thanks to its many parks and trails, Montpelier has been growing as a recreation destination… there is something for everyone…"
- The Next Outdoor Playgrounds, Vermont Sports Magazine
Not many state capitals have such small populations (Vermont's clocks in at just around 8,000) or big art scenes, but Montpelier exemplifies both. Art is present everywhere, from rotating exhibitions at the State House and Supreme Court building to all the co-ops, galleries, and cultural institutions around town. Six times a year, the volunteer-run Montpelier Alive Art Walk brings artists and enthusiasts out for a celebratory evening — naturally, it's loved by the Vermont College of Fine Arts' community.
- 9 Best Small Towns in the U.S. for Art Lovers
"Montpelier Is the Epicenter of Leaf Peeping and All Things Vermont"
- Thrillist
Montpelier sits quietly cool nearby, with its indie bookstores, cafes, thrift shops, boutiques with hand-made soaps and shelves of maple syrup, and restaurants ranging from microbrewery taverns to Nepalese joints...the city and its gold dome-topped statehouse are the perfect mix of charming and funky.
- Thrillist
One of the best things about Montpelier is its walkability.
- Thrillist
"Montpelier Alive is the best!"
- Sarah DeFelice of Bailey Road
"I have learned how important Montpelier Alive is to the community. The services you provide alongside advertising help to grow and strengthen the current Montpelier community while pulling in tourists who help to boost the economy, and I want to thank you for letting me be a part of it."
- Montpelier Alive Intern and Community Member
Montpelier is the least populated of all the state capitals, which gives it the same amount of small-town charm as any other city on this list. In lieu of Walmart and Starbucks, you'll find maple syrup farms, traditional European architecture, and a bustling downtown area lined with quaint shops and cozy cafes.
-
Of all the accolades earned by Montpelier, "best arts town" might stand out the most. The nation's smallest capital city offers professional stage performances at the Lost Nation Theater, live music by Montpelier Alive, and the Green Mountain film festival at the Savoy Theater. An impossibly quaint downtown is filled with art galleries and museums, bookstores and coffee shops, with the beautifully restored Vermont statehouse standing guard across the Winooski River. Community involvement is big here, with outdoor concerts held on the capital lawn and in parks around town, a co-op gallery called the Front that displays works by local artists, and a quarterly Art Walk that encourages more than two dozen galleries, shops, and cafes to open their doors.
- 51 Affordable Discoveries Across America 2019 by BudgetTravel
Montpelier may be the smallest state capitol in the U.S.A., but the city of under 8,000 inhabitants radiates with a rich culture and charm that could only be found in Vermont... a perfect weekend getaway for visitors.
- Weekend Getaway to Montpelier, Vermont by offMetro
Montpelier is really cool because you get that small town charm and a big city bustle at the same time, and you can even drive slightly out of the city to unplug and enjoy time with Mother Nature.
- 5 Best Weekend Trips In New England I Took As A College Student In Boston by Elite Daily
This place has nailed the picturesque small-town aesthetic. Montpelier is the country's smallest state capital (by population), but has a surprisingly lively music and arts scene. .. Being in New England, it's obviously beautiful in the fall, and in winter it's also popular for snowshoeing, ice fishing, ice climbing, and skiing.
- 18 Surprisingly Cool Small Towns In The USA by BuzzFeed
Just steps from the Vermont State House lies the pedestrian-friendly Montpelier downtown shopping district – a neighborhood packed with shops, antique stores and restaurants. Find one of a kind pieces from Vermont artists at the Artisans Hand Craft Gallery, pick up a new cooking gadget at Capital Kitchen or browse treasures from around the world at Global Gifts.
- Ten Best Small Towns for Shopping by USA Today
Montpelier, Vermont takes the No. 4 spot. Montpelier has a median income after housing costs of $47,845, the eighth-highest on this list. The city also has the lowest rate of violent crime in our study, just a little more than 213 incidents per 100,000 residents.
- Best State Capitals to Live in - 2019 Edition by Smartasset
It's the smallest state capital in the U.S., but Montpelier, Vermont, has a thriving arts and music scene, and it's rich in history and natural beauty... Visitors come for its diverse cuisine and fine restaurants. Wintertime brings snowshoeing, ice fishing, ice climbing, skiing and other outdoor sports to enjoy.
- 50 Most Charming Small Towns in the U.S. by Travel Channel
On any adventure, it's important to have a "base camp" — a place you return to, regroup and reflect on your experiences, but that also lets you savor amenities you may not find on the open road. For a foliage expedition in Vermont, the perfect choice for a base camp is the capital city of Montpelier. Located in the central part of the state, Montpelier balances charm and sophistication, serenity and bustle. Centered by the state capitol building (a showpiece in the fall when its brick and gold dome stands out, flanked by colorful trees; how many statehouses are a few steps away from a beautiful hike in the woods?), the city of busy yet walkable streets is dotted with amazing dining spots, quaint and captivating shops, an art scene and district, and much more.
- Capital Times! Montpelier the perfect spot to embark on foliage adventures by Boston Herald
...We already knew about the city's great school system, which was just one of the categories we looked at when ranking the Top 100 Best Small Towns 2015. Montpelier also scored well in social and civil engagement, natural and cultural amenities, and health care....A thriving arts community and access to a host of year-round outdoor recreational activities also top the list of livability traits. Besides Hubbard Park – a forested area offering access to trails and scenic views from right in the middle of town – residents have access to the North Branch River via the North Branch River Park...
- Why Montpelier, VT, is a Best Small Town 2015 by Livability.com
...But the city has much more to offer than that beautiful site — you'll find diverse foods, shopping, people-watching and a great music scene. Montpelier has long offered eclectic fun, but in the past year it has experienced an explosion in cultural and food offerings. This year alone, the city welcomed two new pho restaurants, two Thai eateries, a Latin fusion spot, new farm-to-table restaurants and, of course, more tap rooms...
- Food and Culture Florish in Montpelier by Boston Herald
...Earning the number one spot on our list is Montpelier, Vermont. This small town has minimal crime, excellent schools and is a pleasure for residents and visitors alike. The downtown area is not only beautiful, but it also offers many craft-beer bars and excellent dining establishments. Long time residents own many of the shops in the downtown area and the locals are proud of their small town fellowship. Downtown Montpelier offers delightful boutiques and shops, adorable bookshops, antique stores, coffee shops and plenty of places to eat...
- Number One Best Small Town Downtown in America by Best Choice Reviews
...A mix of craft-beer bars and "exquisite" restaurants make the area near the intersection of State and Main streets a magnet for foodies. With the town's many shops owned by locals, residents enjoy a small-town camaraderie where "almost everyone knows your name."...
- Parade Magazine, 16 Best Main Streets in America
...[Montpelier] makes up for its diminutive size with its independent spirit and rustic charm. The downtown area is concentrated around Main Street, which is full of quaint restaurants and shops, and State Street, where the state house is located. Montpelier is a great place to sample New England specialties. Try the maple syrup at the Morse Farm Maple Sugarworks..
- Huffington Post Travel, 15 of New England's Most Picturesque Towns
Montpelier might be one of the smallest state capitals in the country, but don't mistake its tiny size for a sleepy town: Montpelier bustles with culture and charm both classically New England and uniquely its own.
- Smithsonian, 20 Best Small Towns to Visit in 2014 (#16 of 20)
...Of course, when you're smack dab in the middle of the beautiful Green Mountains, you tend to be mindful of your environmental impact. In the winter, locals ski Mount Mansfield's backcountry or make the 40-minute drive to the Sugarbush or Mad River Glen ski resorts. In the summer, there's canoeing on Mad River, hiking on Mount Hunger, and mountain biking around Millstone Hill...
- Outside Magazine, 16 Best Towns to Live In
Montpelier looks like the snow-covered town you'd build for your model train set -- if, you know, you were into that kinda thing. Which you're not, of course, but if you were. By the way, it's also the only state capital without a McDonalds -- just a random fun fact you should know when you're totally not building a model of the town in your basement.
- Thrillist, 10 Most Beautiful Towns in America During the Winter