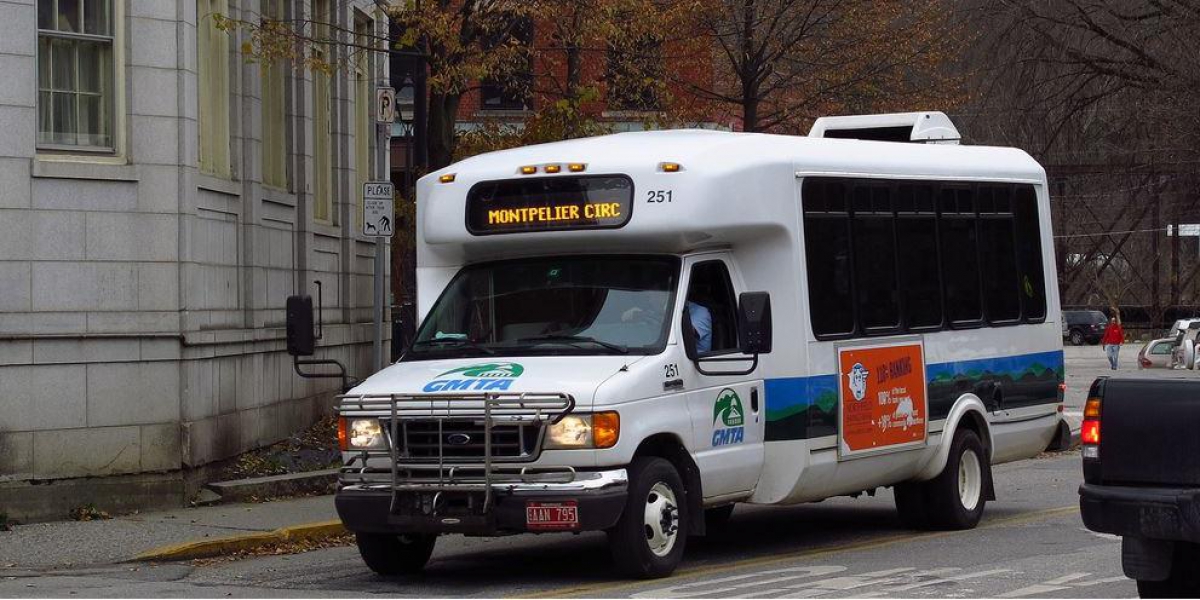 Getting Here, Parking, and Transportation
Getting Here
Downtown Montpelier is located an quick 40-minute drive from Burlington International Airport and an easy, scenic drive from many major cities.
New York City: 5 hours
Montreal: 2 hours, 15 minutes
Boston: 3 hours
Hartford, CT: 3 hours
Albany, NY: 3 hours, 15 minutes
Portland, ME: 3 hours, 45 minutes
Providence, RI: 3 hours, 30 minutes
Quebec City: 4 hours, 30 minutes
Parking
There is on-street metered parking within the Capitol District. Paid parking is also available throughout Downtown Montpelier. Just look for the parking signs! When the Legislature is in session (January to May) parking spaces near the State House tend to fill up early in the day.
Click here for a downtown parking map.
Parking fees are charged from 8:00 AM - 5:00 PM, Monday through Friday. There are no fees on evenings, weekends and legal holidays.
On-Street metered parking spaces: $1.00/hour (2 hour limit)
City Public Parking Lots (except Stonecutter's): $0.75 per hour (all day, no time minimum)
Stonecutter's Way Parking Lot: $0.50 per hour (all day, no time minimum)
If your car is parked at an on-street metered space longer than 2 hours, a ticket will be issued.

ParkMobile allows people to easily pay for parking with a credit card on their mobile device. This offers residents and visitors alike the ability to use the app to pay for parking without having to use a meter or kiosk. ParkMobile can be used to schedule, start, extend and complete parking fee transactions remotely. This option is a convenient, contactless way to find and pay for parking within the City. Please visit https://parkmobile.io/ to learn more.
Electric Vehicle Charging
There are several convenient electric vehicle chargers located in and near downtown. Click here for a map of charging locations.
On-Demand Public Transit
MyRide by GMT is a new flexible-schedule, flexible-route service in Montpelier. Operated by Green Mountain Transit, MyRide features technology-enabled vehicles that provide curb-to-curb service, taking you when and where you need to go.

MyRide is an on-demand travel concept that takes multiple passengers heading in the same direction and books them into a shared vehicle.

To schedule a ride you can use the MyRide by GMT app or can phone the GMT Call Center at (802) 223-7287. You will simply give your current location and destination and the app or Call Center will match you with a vehicle going your way. A MyRide vehicle will pick you up at your location, or the nearest safe location as indicated, and drop you off at your destination.

You'll experience journey times that are comparable to a taxi and much more convenient than other modes of travel. MyRide makes public transportation easier than ever before! Your ride, your way!

MyRide operates Monday-Friday 7:00 AM – 6:00 PM and Saturday 8:00 AM to 6:00 PM and rides are currently free within Montpelier!
Public Bathrooms: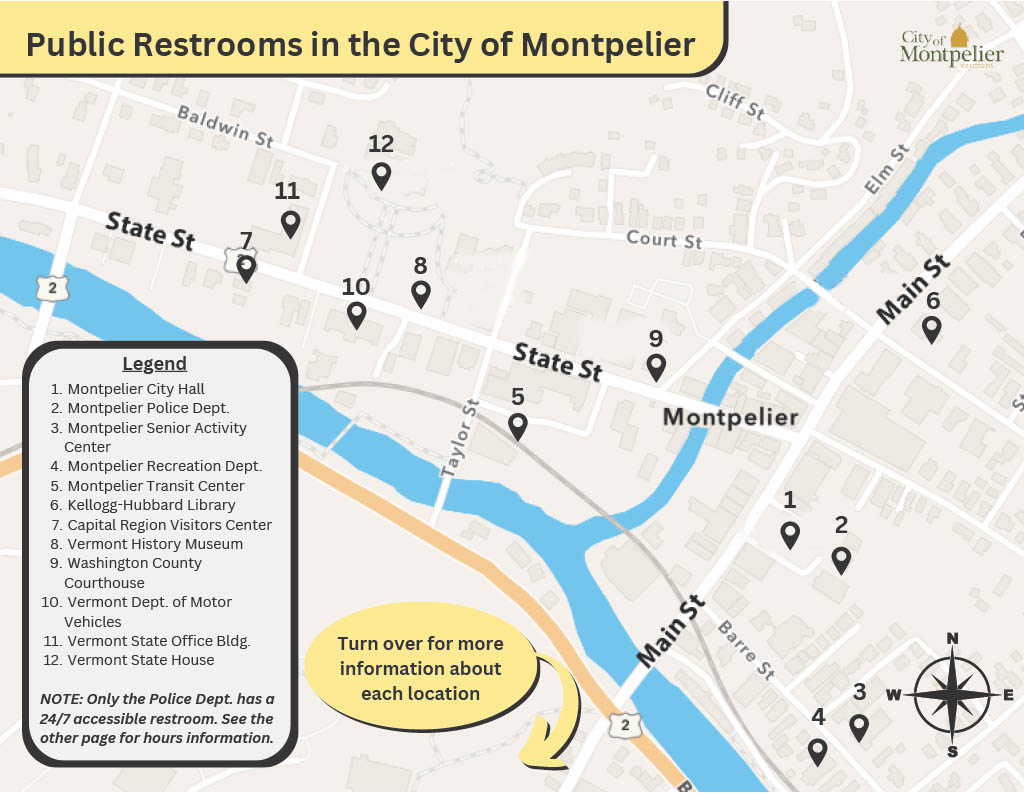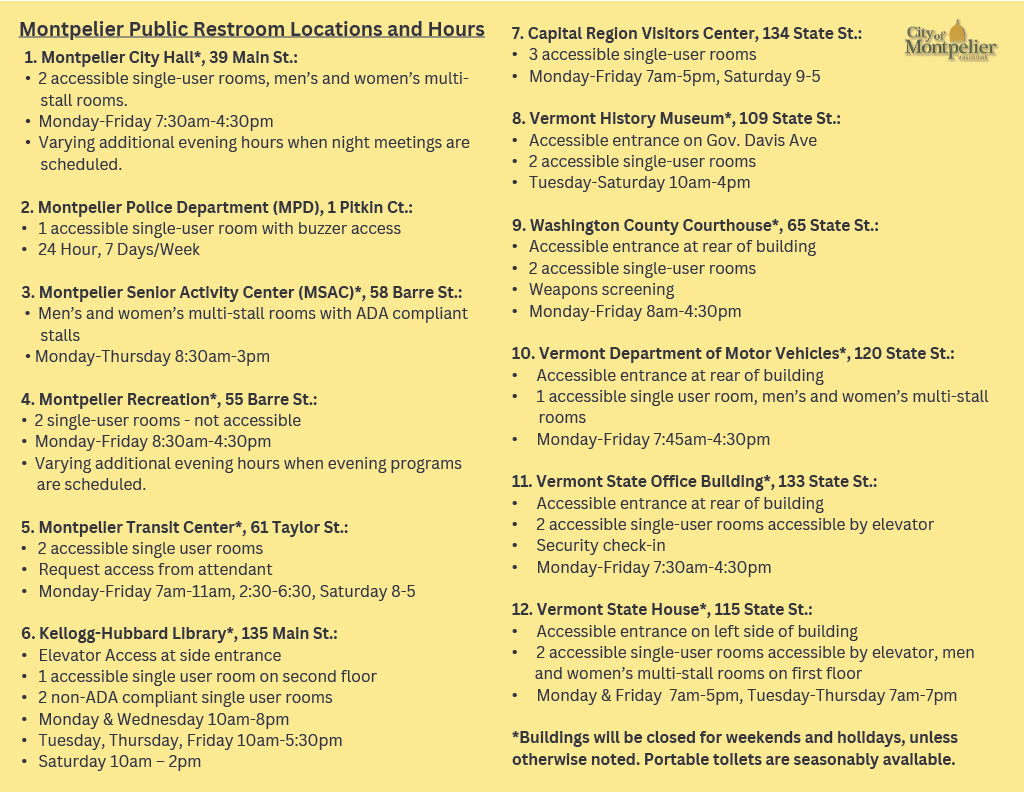 ---
Amtrak
299 Junction Road, Montpelier, VT 05602
800-872-7245
www.amtrak.com/servlet/ContentServer?pagename=am/am2Station/Station_Page&code=MPR
Train station to points north and south
Capital Car Service
802-505-0316
[email protected]
Clean, comfortable vehicles and competitive pricing with a commitment to customer service. Locally-owned and operated. Tell Tim you heard it from Montpelier Alive!
Greyhound Bus
800-231-2222
http://locations.greyhound.com/bus-stations/us/vermont/montpelier/bus-station-30327
Bus service to Montreal and Boston from Downtown Montpelier.
Green Cab VT
802-864-2424
[email protected]
http://greencabvt.com/#/booking/
Green Cab VT is an environmentally conscious transportation company. Their fleet consists of alternative fuel vehicles and hybrids, with professional drivers.
Green Mountain Transit
802-864-2282
https://ridegmt.com/
Green Mountain Transit provides public transportation services in Washington County, Lamoille County, Franklin County, Grand IsleCounty, the Mad River Valley and the towns of Washington, Orange and Williamstown.
Megabus
https://us.megabus.com/route-guides/montpelier-to-boston-bus
The Megabus now goes directly from Montpelier to the heart of Boston. Your Montpelier bus to Boston will then arrive at Boston South Station, located in Boston's financial district as well as near many of the city's destinations.