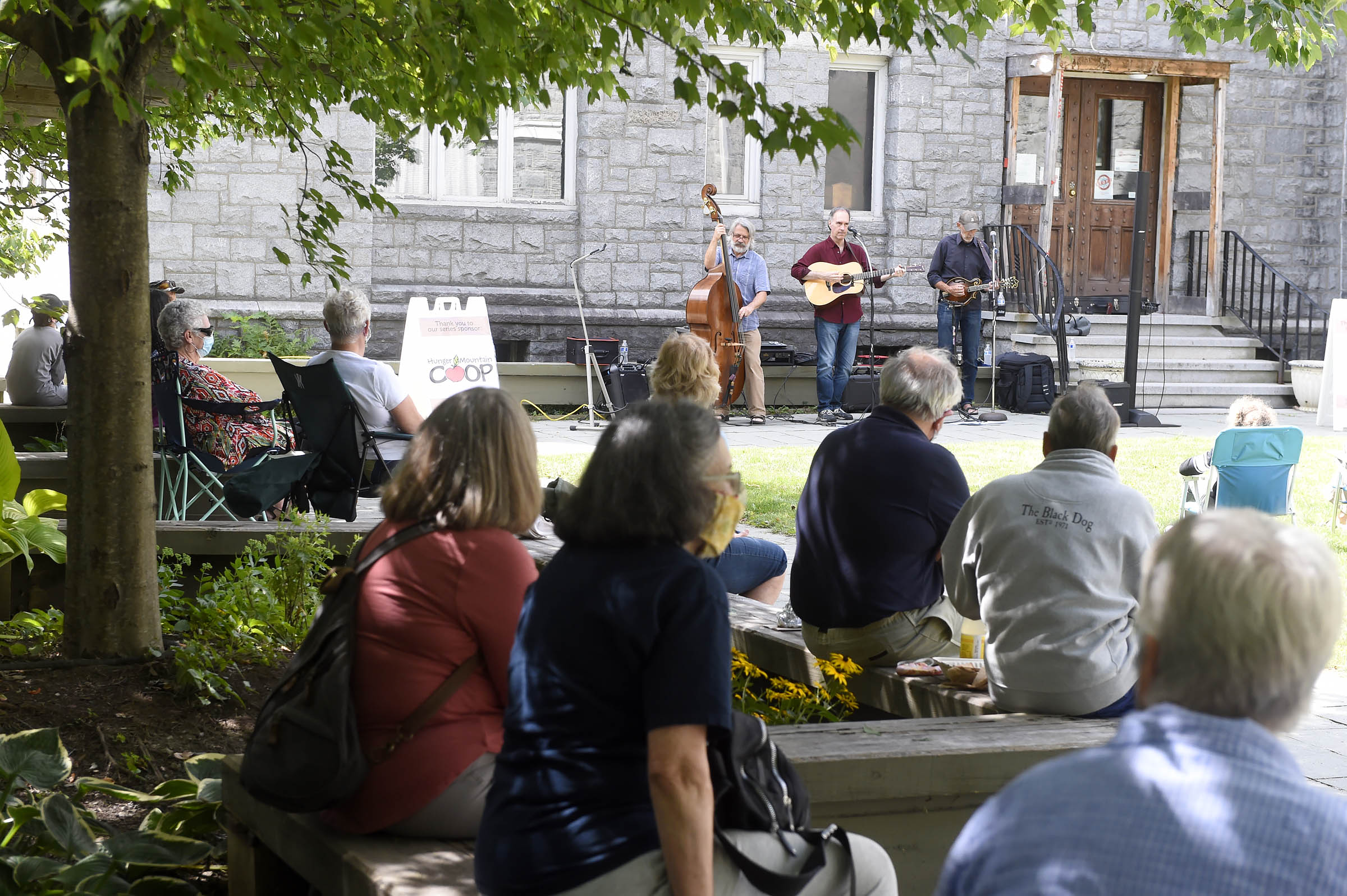 Cancelled - Hunger Mountain Co-op Brown Bag Summer Concert Series - 2023
We're sad to announce that the 2023 Hunger Mountain Co-op Brown Bag Concert Series is cancelled due to the extensive damage to our downtown and the Christ Church courtyard, where it's held.

Stay tuned - We'll let everyone know about upcoming music events being planned.

Concerts will be each Thursday from noon-1 pm, starting July 13th and running through August 24that Christ Church Courtyard, 64 State Street, Montpelier.


July 13th- Les Dead Ringers, sponsored by Hive and Honey Holistic Skin Care

July 20th - Green Mountain Swing, sponsored by Union Mutual

July 27th - Mikahely, sponsored by VSECU

August 3rd - HuDost, co-sponsored by Bear Pond Books and Capitol Copy

August 10th - Yankee Chank, sponsored by Woodbury Mountain Toys

August 17th - Ras Moshe, sponsored by Sullivan Powers

August 24th - Ridgeline, sponsored by Community National Bank
The Hunger Mountain Co-op Brown Bag Summer Concert Series is Montpelier Alive's series of FREE and fun lunch-time concerts. Join us for a diverse lineup of local and regional acts that are sure to delight. Bring a takeout lunch from one of our wonderful downtown restaurants and enjoy!
Les Dead Ringers: Gypsy Jazz meet New Orleans! Playing originals, a wide range of artists from Django Reinhardt and Duke Ellington to Howling Wolf and The Coasters, a humble interpretation of American roots music.
Green Mountain Swing: an all-volunteer, 18-piece big band. The group plays music from the swing era, when swing was king, as in the immortal bands of Benny Goodman, Count Basie, Duke Ellington, Woody Herman and others. It also performs music from the "bop" and "post bop" periods which followed and throw into the mix many modern tunes and music from the Latin field.
Mikahely is a US-based singer/songwriter/guitarist originally from Madagascar, Mikahely has found his new home in Vermont and continues to perform his incredible guitar music and melodies.
HuDost is an Electric-Folk, World-Rock Musical duo who adore collaborating with other musicians, touring the world, and working for social and environmental justice through music, advocacy, and art!
Yankee Chank is a group of musicians from throughout Vermont and New England who perform traditional Cajun music and country songs.
Ras Moshe: Ras Moshe Burnett hails from Brooklyn NY from a family of Jazz musicians. His grandfather (Ted "Barnett" professionally) played in many big band formations of the late 30's throughout the 60's,and later wrote religious music for the New Caanan Baptist Church in Brooklyn. Ras has been playing in and leading bands for 20 years starting with Reggae bands in the Brooklyn area. Ras is a composer and multi-instrumentalist specializing in saxophone and flute.
Ridgeline - Our series wrap up with a group of local teen musicians playing music inspired by Irish, Cape Breton, and Scottish Traditions.
---
The Brown Bag Summer Concert Series is generously supported by: