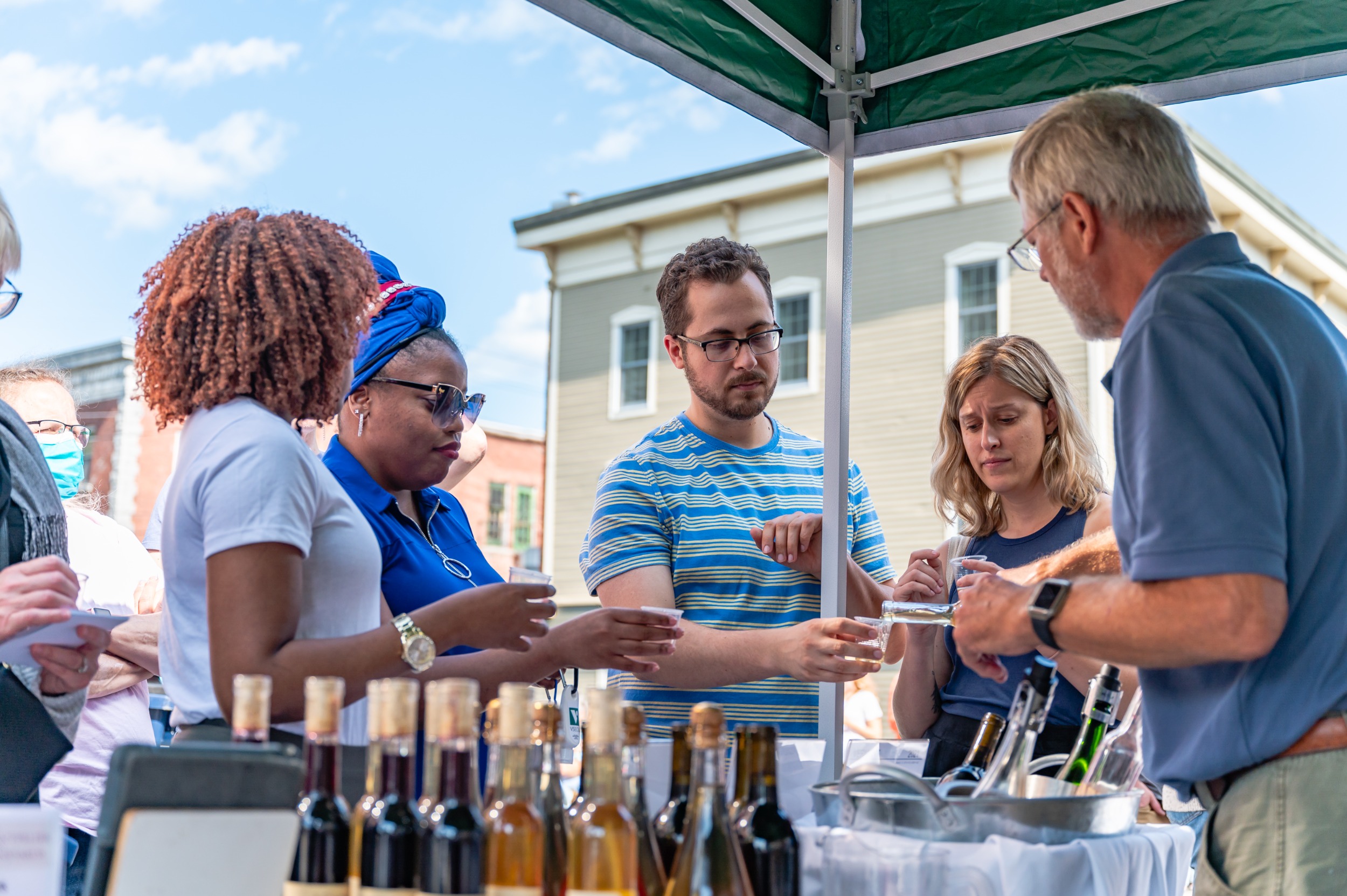 Food and Beverage Artisans, Restaurants, and Food Trucks
Anderbell Acres is an organic farm in East Montpelier with pick your own berries and flowers. They will be offering fresh Pressed cider and beautiful locally-grown flowers.

Cabot Creamery Co-operative has been in continuous operation in Vermont since 1919, and makes a full line of cheeses, Greek yogurt, sour cream, cottage cheese and butter. Widely known as makers of "The World's Best Cheddar," Cabot is owned by hundreds of dairy farm families of Agri-Mark, the Northeast's premier dairy cooperative, with farms located throughout New England and upstate New York.

Caledonia Spirits, makers of Barr Hill Gin, produces land-crafted spirits right in Montpelier that celebrate raw honey and craft distilling, and uniting agriculture and cocktail culture. Enjoy samples of their craft spirits, including Barr Hill Gin, Tom Cat Gin, Barr Hill Vodka, and Maple Vodka, along with house-made ginger syrup and tonic syrup and raw honey.

Daily Chocolate is a small batch chocolate shop located in Vermont's oldest and smallest city, Vergennes. Daily Chocolate is committed to keeping their ideas fresh, their flavors inventive, and their look beautiful - all while using quality ingredients that are ethically and sustainably sourced.

Dougy Fresh Gyros will be selling a variety of gyros lots of fresh veggie toppings and sauces to choose from.

Eden Speciality Ciders produces high end harvest cider with Vermont apples. We will be offering a broad range of our products for sampling and packaged goods for purchase.

Enna is an International Deli offering Lunch, Catering & Take Home Dinners. Their Featured Taste is a Banh Mi Sandwich - either Slow Cooked Pork Belly and Chicken Liver Mousse or Slow Cooked Portobello Mushrooms and Mushroom Mousse with Spicy Mayo, House Made Pickled Carrot & Daikon, Cilantro and Mint on a Soft Baguette.

Ghazi's Goodies: A Taste of Tunisia is proud to offer select sweets and staples from the Tunisian table. These North African specialties will be lovingly prepared by Ghazi, a Chef from Tunisia, and his partner Sarah Lipton. Tickle your taste buds and delight your senses with these special delights!

Hugo's Bar and Grill is a New American Bistro featuring accessible, farm to table cuisine with local meats, burgers, and the freshest seafood. Their Featured Taste is Tuna Nachos: Yellowfin Tartare, Wonton Chips, Wakame, Spicy Mayo, served with a refreshing Honeydew Juice beverage. Served at the Hugo's Patio, 118 Main Street.

J. Morgan's Steakhouse is Vermont's premier steakhouse. J Morgan's has been around for 25 years and is a locals favorite spot. We serve up a little bit of everything and a whole lot of beef. They will offer parmesan garlic bone-in wings on special for takeout or dine-in inside their 100 State Street location.

Karim Farm and Creamery sells European-style farmhouse cheeses: gouda, hispanico, gruyere, an English cheddar, a morbier-style cheese, Piora and Vertalia (an Italian-type dessert cheese)

Kingdom Creamery: For three generations the Michaud family has produced the highest quality of milk on our own family run farm in the Northeast Kingdom of Vermont, an area rich in dairy tradition! This peaceful haven is the family's inspiration in creating Kingdom Creamery of Vermont at the farm in East Hardwick. The queens of our land–our elite cows, of course!---are pleased to share with you their Vermont made ice cream and yogurt. Now you too can enjoy a delicious spoonful of our Kingdom fairy-tale....anytime you crave it!

Lake Champlain Chocolates creates extraordinary chocolates using only the best ingredients, including 100% Fair Trade Chocolate, and local cream, butter, honey and maple syrup. They will be sampling and selling two of their most popular products- Dark Chocolate Maple Caramel and Milk Chocolate Caramel.

La Bonne Crêpe is a Montpelier-based local food vendor, currently dedicated to fundraising for student travel at MHS. They will be serving a variety of delectable crepes, including their Featured Taste: Mount Mansfield Mushroom or North Country Ham with Cabot Cheddar and greens.

Mamma Boucha offers craft kombucha tea. Mamma Boucha is an endless source of love and vitality and desires nothing more than to be replicated in order to nourish as many folks as possible. Not only is she living-giving, but she's also got a flair for fun, and has no problem at all mixing with the wildest flavor combinations the imagination can stir up.

Montpelier Senior Activity Center FEAST Meals Program: Celebrate the FEAST Senior Meals Program that provides delicious nutrition to older adults in need by sampling scrumptious baked goods. All proceeds will go to supporting this vital resource for our older adult community. Items baked by our very own Chef Shalonda James and friends of FEAST.

North Branch Vineyards is a small winery in Montpelier, VT producing unique wines using locally and regionally grown grapes.

Oakes & Evelyn is a modern farm-to-table restaurant, focused on using fresh, local ingredients. Their Featured Tastes are Tuna Poke, a signature cookie, and a burratina salad.

Small Oven Pastries offers French macarons, pate de fruit, meringues -- tiny desserts!

St. Pierre Delicacy offers quality, tasty, and very original true-to-myself cooking. Enjoy homestyle favorites like bacon cheese burgers, pulled pork mac n' cheese, and teriyaki grilled chicken.

Taste of Desi is a family–owned business selling homemade South Indian specialties including dosa, dumplings, and mango lassi. Ingredients are organic and locally sourced.

Vermont Craft Mead, better known by our two brands, Groennfell Meadery and Havoc Mead, is a proudly Woman-Owned, Woman-Operated, Certified B Corp from Saint Albans, VT. Founded in 2013 by Kelly Klein and her husband Ricky, Groennfell Meadery was one of the first craft-only meaderies in the world.

Vermont Creamery is a butter and cheese company based in Websterville. They plan to sample their artisan cheeses, goat cheese, and other products.

Vermont's Farmhouse Jerky Co. offers hand-cut, Chef-created Jerkys, all-natural with no artificial anything. We sell 13 types of all natural beef jerky, plus maple bacon jerky, trail mix with beef jerky, and more.

The Wagyu Wagon is a farm-to-table food truck featuring grass fed Wagyu raised on their own farm in Westford. Their Featured Taste will be a Wagyu beef slider with Shelburne Farms cheddar, tomato jam & roasted garlic aïoli.

YUM

= Great Food! Great Fun! Serving Cabot grilled cheese & Mac and Cheese, plus snowcones with our self-serve flavor station. Create your own icy masterpiece.