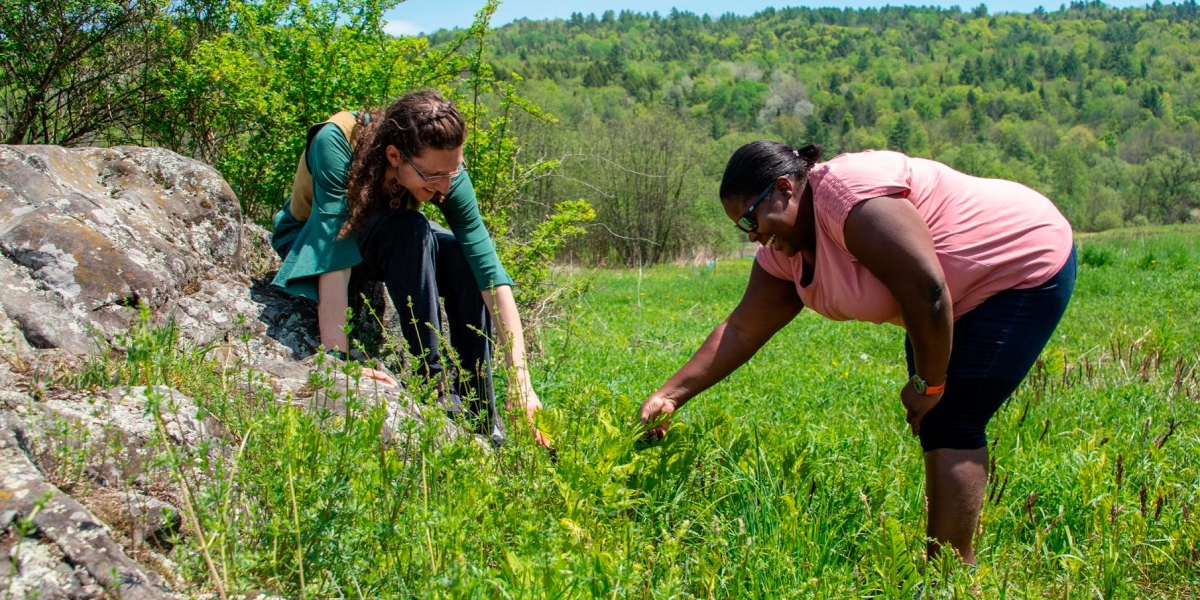 For Nature Lovers
Curated by North Branch Nature Center
Our itineraries are sponsored by Capitol Plaza Hotel Montpelier, Tapestry Collection by Hilton.
One of the things that makes Montpelier unique is our direct access to beautiful natural places not only within the city limits, but even right downtown -- if you know where to go.
Home to more than 400 acres of preserved land (including Hubbard Park, North Branch River Park and North Branch Nature Center); three rivers; a bike path and dozens of walking trails; and a handful of small pocket parks, Montpelier's natural habitats include mixed hard and softwood forests, meadows, wetlands, riparian zones, and beaver ponds. Keep your eyes open for wildlife like eagles, deer, salamanders, and songbirds. If you're really lucky, you might even spot a mink, otter, or moose.
So lace up your sneakers, rent a bike if you prefer to be on wheels, stock up with provisions for a picnic lunch, and you're ready for a great day in the nation's smallest and wildest capital city!
Where to Visit
Here's our ideal way to spend a day outside in Montpelier, about 5 miles round-trip:
After fueling up and stocking up downtown (see below), head north up Elm Street and turn right on Cummings Street, which leads you to North Branch River Park's trail following the North Branch of the Winooski River. Check out the beaver dams along the way.
Cross over the footbridge to North Branch Nature Center, where you can take in free art and natural science exhibits and explore the trails through woods, meadows and riparian zones. Enjoy your picnic watching dragonflies hunting over the river and tree swallows patrolling the meadow. The kids in your group will want to explore to explore the mud kitchen and other delights of NBNC's Nature Playscape before you head across Elm Street to take the connector trail from Finch Road to Hubbard Park.
Climb the 100-year-old tower in Hubbard Park to take in the views of the town framed by Camel's Hump and the Worcester Range before making your way down the State House trail.
Rest your feet for a bit on the grassy State House lawn, watching the locals cavort with their kids and dogs.
Where to Shop
Langdon Street's Onion River Outdoors and Roam Vermont will outfit you with sporty sandals, water bottles or nordic ski rentals, all served with a smile and good advice on getting outdoors in central Vermont. Their bike rental program offers everything from road bikes to fat bikes...you can even rent an e-bike!
For a souvenir or gift, make your way to Guy's Farm and Yard, a quintessentially Vermont shop on Barre Street which sells everything you, your pet, or your farmyard animals might need: Vermont-made Darn Tough socks, quality bird-feeders, gifts for gardeners, or leashes and treats for your pooch.
Where to Eat
At the corner of School and Elm Streets, the Uncommon Market is stocked with classic and classy picnic fare alike, including uncommonly good reubens and fish chowder. While they're making your sandwiches, you can watch the mallards from the market's riverside porch.
Fuel up with a savory scone and a London Fog (an Earl Grey latte) from Birchgrove Baking, Elm Street's fantastic little bakery/coffee shop. Enjoy your snack just steps away on the pedestrian bridge which connects Vine Street and the charming Lane Shops apartments. Watch for a Great Blue Heron who is frequently spotted here, fishing for his own breakfast.
The North Branch Cafe on State Street is the perfect place to relax after your day roaming the trails. You'll find delicious local Vermont foods and baked goods to pair with wine or tea.
For dinner, consider Sarducci's on Main Street for its fresh Mediterranean fare and its view onto the Winooski River.
Where to Stay
The Capitol Plaza Hotel Montpelier, Tapestry Collection by Hilton, is the preferred lodging of Montpelier Alive. Learn about aditional lodging options in Montpelier.
You Might Also Like...