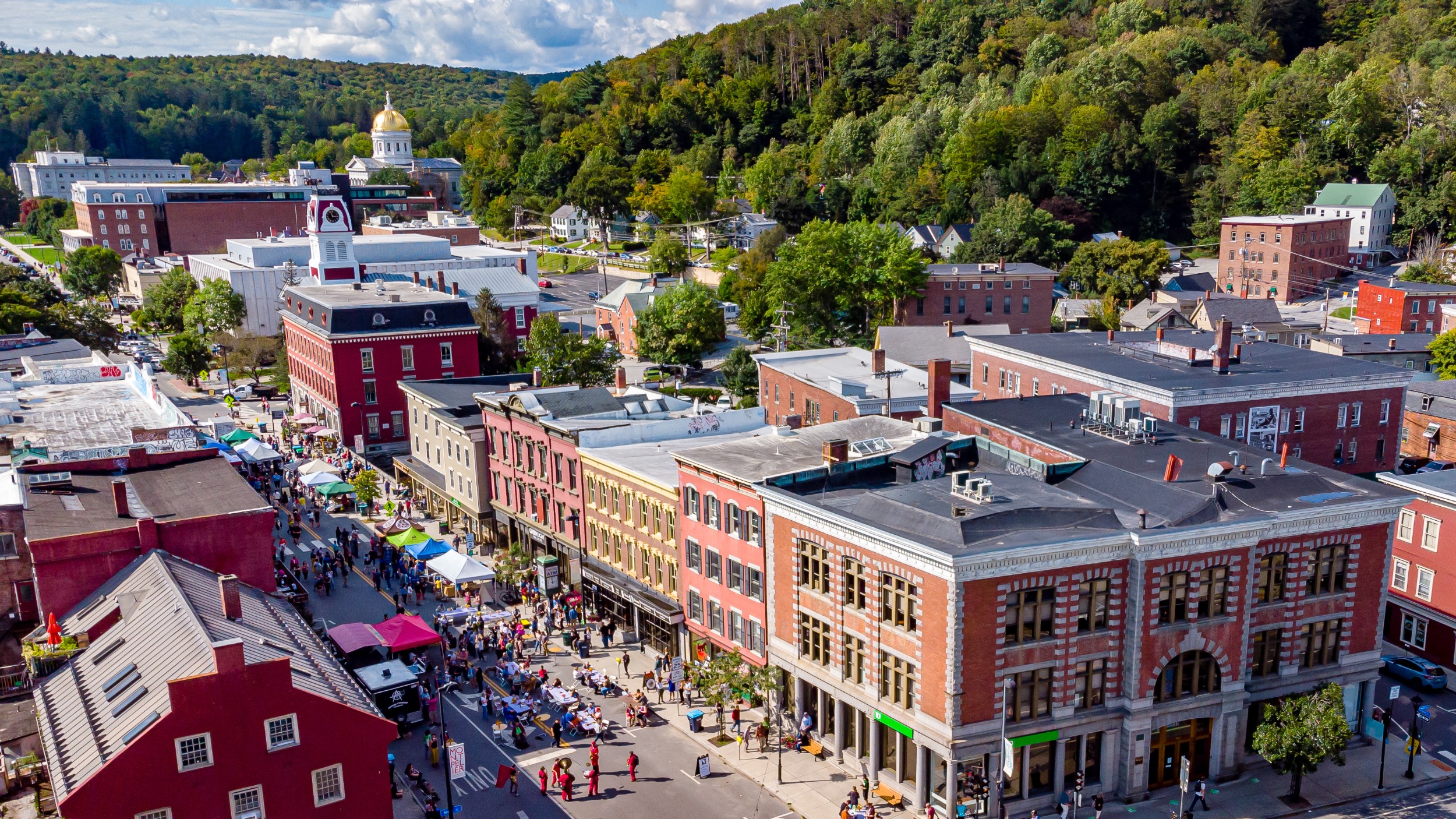 Celebrating Montpelier's Recovery
Reopening Weekend - October 6-7th, 2023
Many of Montpelier's downtown businesses impacted by the July flood have reopened or are reopening this Fall - we celebrate our City recovery with a Reopening Celebration with a variety of events and activities for all!
Friday, October 6th
Art Walk - throughout downtown from 4 - 8pm. Art Walk is a fun and casual way to experience art, meet local artists, and explore downtown shops, restaurants, and galleries. Notice 'The Renewal Project', bringing vibrancy and art to downtown storefronts, and telling our community story of the July flood.
Sidewalk Sales - all day throughout downtown
Shidaa Projects Music & Drumming team, City Hall 6-7pm, energetic live drumming and music, features special dance artist Samuel Maama Marquaye, from Ghana.
Lost Nation Theater show - Sam and Jim IN HELL, City Hall 7:30 pm
Saturday, October 7th
Capital City Farmers Market 9 -1 pm, VCFA Green, 36 College Street - Stop by the Capital City Farmers Market, named one of the best in New England by Yankee Magazine, and see how much Vermont has to offer! Founded in 1977, the Capital City Farmers Market has been bringing local producers and customers from near and far together to create this eclectic community event for 40 years. Over 50 vendors sell locally grown and made products, unique to Vermont and astounding in quality. Fresh vegetables and fruits, quality meats, specialty cheeses, artisan bread, baked goods, ethnic foods, herbs, plants, flowers, arts and crafts, honey and maple syrup…the list goes on and on.
Sidewalk Sales - all day throughout downtown
Taste of Montpelier - State and Langdon Streets, 1 - 5pm. Come to the Taste of Montpelier Festival and be part of the grand reopening weekend of downtown Montpelier!! Dine at our world class restaurants, and enjoy foods from around the state from our 20 food trucks. Learn about new foods and techniques from our Chef Demos and enjoy our amazing street performances throughout the afternoon. Our downtown stores will be holding sidewalk sales all over town over the weekend too.

Montpelier's third Taste of Montpelier is an event not to be missed! -- Free admission

Operatic Benefit for Montpelier Flood Relief, 2:30–4 pm, State House Lawn

24 Hour Comics Day, Starts at 9am Center for Arts and Learning: Join Center for Arts and Learning in a fun, feverish, frenzy of art making. The annual 24 Hour Comics Challenge is a free event for artists ages 16 and up. (Younger participants are allowed with parental permission).
Fall for the Library: 10 am - 2 pm, Kellogg Hubbard Library: Help celebrate the Library's grand reopening with a bouncy house, puzzle swap, interactive Abenaki display, entertainment, crafts, snacks, and the finale of our fundraising auction. All welcome! This is a free event, open to the public.
Shidaa Drumming - 6 -7pm in front of City Hall
Lost Nation Theater show - Sam and Jim IN HELL, City Hall 7:30 pm
All Weekend
Visit or take a tour of The Vermont State House. It's open from 10-4 weekdays and 11-3 Saturdays. Meander through the State House or take a free guided tour with one of the State House volunteers.