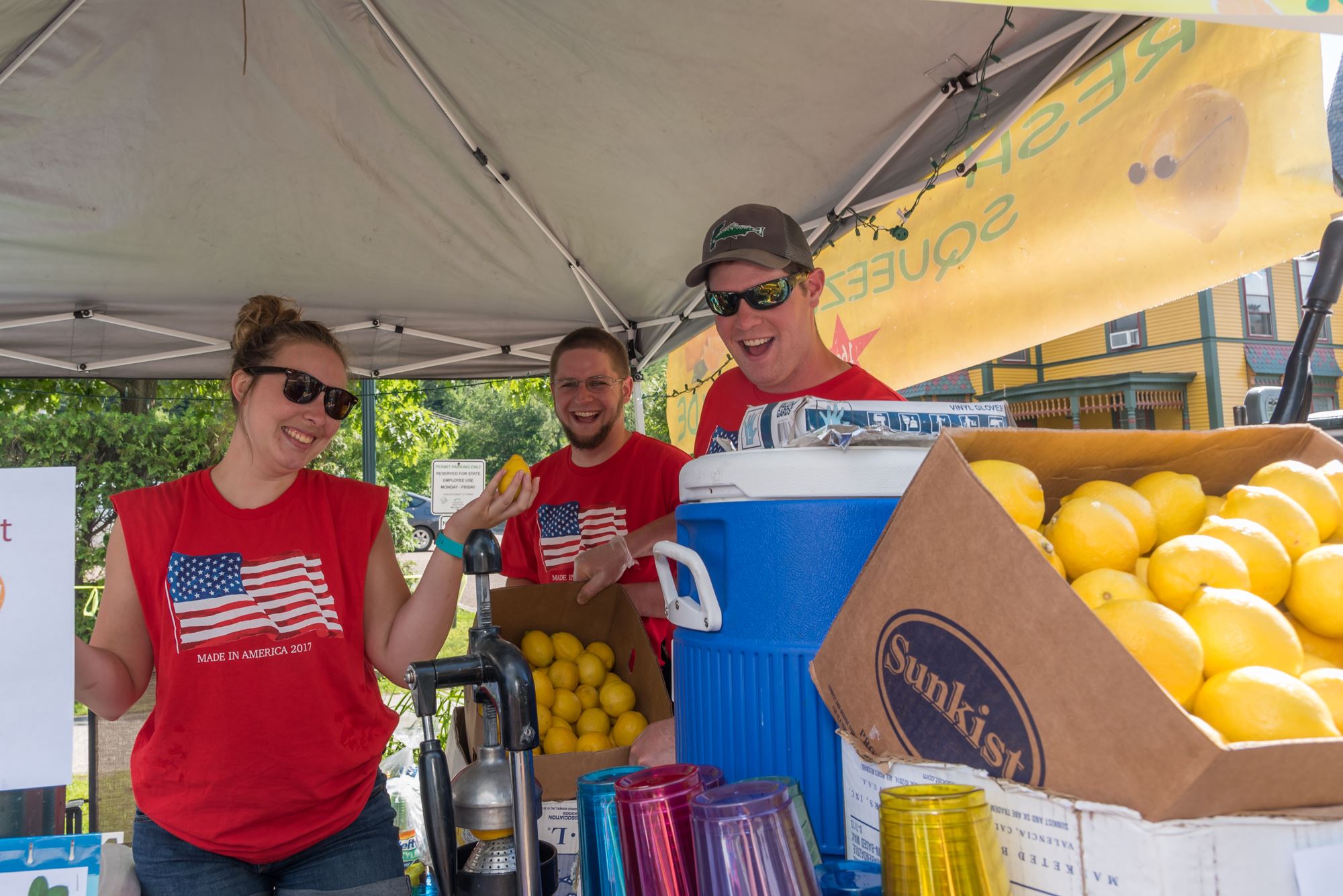 July 3 Food and Vendors
Welcome to The Marketplace, where more than 30 amazing vendors offer a mouth-watering variety of food and beverage, plus all your celebration essentials like glow sticks and face paint! Join us along State Street in front of the State House!
Butler's Baked Potatoes: Baked potatoes and nachos
The Candy Can: Local Ice Cream Vendor selling novelty Ice Cream, Cotton Candy, Water and Soda.
Dawg Daze: Gourmet hot dogs
DR Sweet View Maple: You can cool down with our shaved ice or real fruit smoothies. If you have a sweet tooth we have Maple treats - syrup, candy & cotton candy.
Friday Harvest Bakery and Goods: Friday Harvest Bakery is a small-batch bakery focused on delicious classics full of Vermont-made products. We will be selling American classics and July 4th-themed baked goods for the parade to keep your energy up while we celebrate!
Fried Dough: Fresh and delicious fried dough
Greene Mountain Nutrition and Smoothies: Vending Smoothies and spreading Joy!
JBMBB concessions: Bloomin Onions, Water, and Soda
Kingdom Creamery of VT: We are a 3 generation farm located in East Hardwick. We have our own processing plant to produce our ice cream.
Taco Truck All Stars: Authentic tacos & more with vibrant street art flair for over 10 years in Vermont! 100% solar powered truck! Serving up delicious street tacos...Gluten Free, Vegetarian, Vegan, kid friendly options abound! Find us at any local music festival, food truck stop, outdoor sporting event and more, serving up classic flavors with a side of fun!
Maudite Poutine: Vermont's original poutinerie serving locally sourced poutine from scratch.
Mediterranean Mix: Mediterranean Food prepared with locally grown ingredients
The Melted Cheesiere: We are a Vermont based food truck specializing artisan grilled cheese. Our sandwiches start with fresh local baked sourdough bread and a blend of three Cabot cheeses. We are known for our Vermonter Grilled Cheese, which includes bacon, a "schmear" of applebutter and a drizzle of maple syrup.
Mo's Backyard BBQ: Barbecue, fries and drinks
Northern Grill and BBQ: Vermont locally owned business selling homemade food
Sisters of Anarchy Ice Cream: Sisters of Anarchy Ice Cream doesn't just throw around the term farm-to-cone. We are the farmers growing the flavor elements on our farm where we make the ice cream.
The Skinny Pancake: A Vermont-based creperie, with 8 locations in VT and NY. The Skinny Pancake is on a mission to change the world by building a safer, healthier and more delicious food shed while creating everyday enjoyment that is fun and affordable.
Sophie's Doughnuts: We are a family owned mobile mini-doughnut business based in Irasburg Vt. Apple cider doughnuts dusted with cinnamon sugar are our specialty!
Sons of American Legion: Non profit organization, all proceeds after costs goes to Veterans, Community and Youth programs. We will be selling hot dogs, hamburgers, cheeseburgers, soft drinks & water to raise funds for these programs.
Vermont's Farmhouse Jerky Co.: Hand-cut, Chef-created Jerkys, all-natural with no artificial anything. We sell 13 types of all natural beef jerky, plus maple bacon jerky, trail mix with beef jerky, and more.
Woodbelly Pizza: Woodbelly makes delicious wood-fired, farm-to-table, sourdough pizza. We use local meats, produce, and flour and pride ourselves on being worker-owned.
YUM: YUM = Great Food! Great Fun! Serving Cabot Grilled Cheese & Cabot Mac and Cheese. Create your own frozen treat with our self serve Snowcone flavor station.Joan Peters lemonade
Gifts, Face Painting, and More
Kai Chi Gifts: Kai Chi Gifts has been selling at Vermont fairs and festivals for over 20 years. we sell funny hoodies and tees, stainless steel jewelry, sunglasses and hats. for this special event we will also have a good selection of flashing novelty items.
Montpelier SSN 765 Support Committee: Hats, Coins, Various Drinkware.
Vermont Face and Body Art: We provide professional Face painting and henna body art as well as jewelry and body art kits for retail sale.
Non-Profits
Central VT New Directions Coalition: Central Vermont New Directions Coalition (CVNDC) was established to serve the needs of youth and families in Washington County. The coalition is a non-pro?t organization dedicated to making a difference in youth substance use in our community. With the help of community members and organizations we are able to successfully educate and inform the diverse populations within our community.
Central Vermont Solid Waste Management District: CVSWMD provides education, advocacy, and services for residents and businesses in reducing and managing their solid waste in order to protect public health and the environment. Bring us your recycling questions, and let us help you better manage and reduce your waste!
Vermont Solid Waste Program: State of VT Solid Waste Program; we'll have information about recycling, composting, and waste reduction